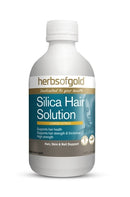 Description
Healthy skin, hair & nails
Herbs of Gold Silica Hair Solution is a delicious lemon-citrus flavoured colloidal silica liquid formulated to support hair health.
Supports hair health
Supports hair strength & thickness
High strength
Ingredients:
Each 10mL contains:
Colloidal anhydrous silica equiv. silicon
 
280mg
Biotin
 
3mg
Selenomethionine equiv. selenium
 
25 micrograms
Zinc citrate dihydrate equiv. zinc
 
25mg
Naturally sweetened with Stevia. 
Does not contain egg, milk, peanut, soy, tree nuts, animal products, gluten, lactose or artificial colours, flavours or sweeteners. Vegan friendly
Indications:
Silica Hair Solution is a high-strength blend of vitamins and minerals to support the health of connective tissue including hair, skin and nails. 
Silica Hair Solution contains 280mg of silica per serve. Silica supports the health of hair and maintains hair thickness and strength. 
Silica supports collagen formation and skin structure and elasticity. 
Silica maintains nail thickness and strength and supports bone mineralisation and health. 
Silica Hair Solution contains 3mg of biotin per serve. Biotin is an important water-soluble B vitamin, also known as vitamin B7, that is involved in keratin production. Keratin is a type of protein that is key to the structure of hair, skin and nails.
Silica Hair Solution contains zinc, an antioxidant that reduces free radicals formed in the body and supports wound healing. 
Silica Hair Solution is naturally sweetened with Stevia
Directions:
SHAKE WELL BEFORE USE. Take in water or juice

Adults and children over 12 years – Take 10mL daily, with food, or as directed by your health professional.
Warnings:
This product contains selenium which is toxic in high doses. A daily dose of 150 micrograms for adults of selenium from dietary supplements should not be exceeded. 
Vitamin and mineral supplements should not replace a balanced diet.