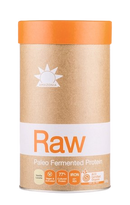 Description
Amazonia Raw Paleo Fermented Protein is a delicious wholefood formula combining a nourishing, sprouted base with fermented seeds and greens to create a comprehensive paleo-friendly protein blend. Using unique principles of fermentation that have been in practice since the Paleolithic Age allows for enhanced bioavailability of nutrients in a form that is gentle on the digestive system.
This vegan and grain-free plant protein formula contains digestible protein with additional superfoods such as fermented spirulina, quinoa and chia.
Ingredients
Raw Paleo Fermented Protein – Vanilla Lucuma
Fermented Paleo Wholefood Protein Blend (Sprouted & Fermented Golden Pea Protein*, Sacha Inchi*, Fermented Spirulina*, Fermented Spinach*, Fermented Sweet Potato*, Fermented Pumpkin Seed*, Fermented Sunflower Seed*, Fermented Flaxseed*, Fermented Millet*, Fermented Quinoa* & Fermented Chia* [<0.05% molasses added for the fermentation process]), Natural Vanilla & Organic Lucuma Blend (Natural Vanilla Flavour, Lucuma Fruit*, Stevia Leaf Extract). 
*Certified Organic
Directions
Blend 3 rounded tablespoons (30g), or higher dose as required, into 200ml of water, non-dairy milk or coconut water. For children (12-17), take half the adult serve.
Protein supplementation can be of benefit when used in conjunction with physical activity. Diets high in protein increase the body's need for water. Please ensure adequate daily water intake. If you are pregnant, breastfeeding or taking medication, please consult your healthcare professional before using.
*Inclusive of all, at time of input.
**Based on a female's daily RDI.
Store below 25°C in a cool, dry and dark place.