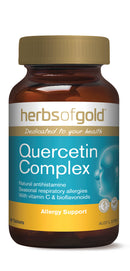 Description
Herbs of Gold Quercetin Complex 60 Tablets Contains natural anti-histamine properties and potent antioxidants to provide relief for upper respiratory allergies. Ingredients include quercetin,rutin, bioflavonoids, hesperidin and vitamin C. This product is recommended for the relif of allergic symptoms such as: sneezing, runny nose, watery eyes and itching. Recommendations for dose Adults (and children over 12 years) - Take 1 tablet, twice daily, with food. Or take as directed by your healthcare practitioner.
Indications
Quercetin

 

has natural anti-histamine properties.

Quercetin

 

Complex provides symptomatic relief of hayfever and seasonal upper respiratory tract allergies.

Quercetin

 

Complex provides anti-inflammatory and anti-histamine activity for the relief of hayfever and mild allergic symptoms such as runny nose, sneezing and itchy, watery eyes.
Bioflavonoids help to increase the absorption and utilisation of vitamin C.
Bioflavonoids refer to a group of (antioxidant) compounds and includes

 

quercetin

, rutin and hesperidin.
Vitamin C and bioflavonoids such as

 

quercetin

, rutin and hesperidin are potent antioxidants.

Quercetin

 

Complex helps maintain capillary strength and health.
WARNINGS
If symptoms persist consult your healthcare practitioner. 
Vitamin supplements should not replace a balanced diet.
Ingredients
Each tablet contains:
Quercetin

500mg
Rutin
100mg
Citrus bioflavonoids extract
50mg
Hesperidin
25mg
Ascorbic acid (vitamin C)
50mg

Does not contain added egg, milk, peanut, tree nut or animal products, yeast, gluten, lactose, artificial colourings, flavourings or preservatives.