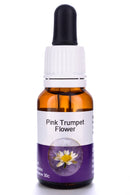 Description
The essence of strength of focus. To harness the inner strength of purpose and direct it towards important goals. Encourages achievement through new mental directness. Helpful for those who find difficulty in maintaining purpose, who feel they get lost half way through a thought process or activity. Excellent for attaining healing objectives.
For the person who cannot follow their thoughts through, losing energy and focus and sometimes not realising they have drifted away from and forgotten what they were setting out to achieve.
For those who get frustrated with themselves for not keeping "on the ball".
For those who feel bad about themselves because they feel their mind isn't strong enough to focus properly and achieve like others do.