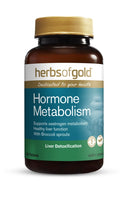 Description
Support oestrogen metabolism
Herbs of Gold Hormone Metabolism is a comprehensive formula to support phase I and phase II liver detoxification processes and healthy metabolism of oestrogen hormone in the liver.
Healthy metabolism of oestrogen
Healthy liver function
With Broccoli sprouts
Indications:
Hormone Metabolism is a comprehensive herbal and nutritional formula, including Broccoli sprouts and St Mary's thistle, to support liver detoxification and maintain healthy liver function.
Hormone Metabolism supports phase I and phase II liver detoxification processes to support healthy metabolism pathways of oestrogen in the liver.
St Mary's thistle is traditionally used in Western herbal medicine to protect the liver, support healthy liver function and relieve symptoms of dyspepsia.
Hormone Metabolism also contains antioxidants that reduce free radicals formed in the body. 
Ingredients:
Each tablet contains:
herbal extracts equiv. to dry
 
Brassica oleracea var. italica (Broccoli) sprout
2.5g
Silybum marianum (St. Mary's thistle) seed
8.75g
stand. to contain flavanolignans calc. as silybin
100mg
Rosmarinus officinalis (Rosemary) leaf
1.5g
and 
 
Quercetin dihydrate
75mg
Glutathione (Setria®

 

L-Glutathione)
50mg
Does not contain added egg, milk, peanut, tree nut or animal products, yeast, gluten, lactose, artificial colourings, flavourings or preservatives. Vegan friendly
Directions:
Adults only – Take 1-2 tablets, twice daily, with food, or as directed by your healthcare practitioner.
Warning:
Not recommended for use by pregnant and lactating women.

Always read the label. 

Follow the directions for use. 

If symptoms persist, talk to your health professional. 

Contains sulfites and soya.