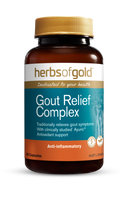 Description
Herbs of Gold Gout Relief 60 Capsules Comple


Celery plus clinically-trialled* Ayuric®
Herbs of Gold Relief Complex is formulated with carefully selected herbs that address the symptoms of gout.
Traditionally relieves gout symptoms
With clinically studied* Ayuric®
Antioxidant support
Gout is a condition characterised by joint inflammation that occurs when uric acid builds up around the joint.
Gout Relief Complex is a comprehensive formula that contains Celery, traditionally used in Western herbal medicine to relieve symptoms of occasional episodes of gout.
Gout Relief Complex contains Ayuric®, a clinically trialled* extract of Terminalia bellirica that relieves inflammation and acts as an antioxidant, reducing free radicals formed in the body. 
Always read the label.

Follow the directions for use.
If symptoms persist, worsen or change unexpectedly, talk to your health professional.
Each capsule contains:
Apium graveolens

 

(Celery) seed extract 75mg
derived from dry seed
1.5g
Terminalia bellirica (Terminalia) fruit pericarp extract (Ayuric®) 250mg
derived from dry fruit pericarp
1g
Medicago sativa

 

(Alfalfa) leaf extract 75mg
derived from dry leaf
375mg
Potassium citrate equiv. potassium
18.1mg
Magnesium citrate equiv. magnesium
8.1mg
Does not contain egg, milk, peanut, soy, tree nuts, animal products, gluten, lactose or artificial colours, flavours or preservatives.