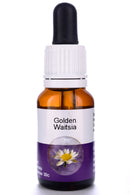 Description
The flower essence to take the mind beyond small peripheral issues. To re-ignite carefree feelings, to heal all aspects of anxiety linked to perfectionism. Helpful for those who worry about details, allowing the mind to become bright and inquisitive, positive in outlook, and adaptable to changing needs.
For people who are continually caught in over-attention to small matters and small details in big matters. The perspective they have increases a negative and hopeless state where problems can never be solved because there is always another detail to consider.
For those caught in small details which can create low energy states, depressed states, anxious states and totally frustrated states of mind.
For those who feel overconfident in their ability to assess because of their attention to detail, but really are at a disadvantage because of their myopic perspective.