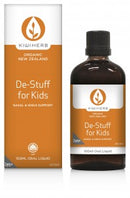 Description
De-Stuff for Kids is a unique formulation designed to support the health of the upper respiratory tract, especially little noses and sinuses. Made from certified organic Elderflower, Ribwort and Echinacea root, this formula can be used for children 2-12 years old and may aid in the relief of catarrh and congestion of the upper respiratory tract. 
The formula is naturally sweetened with organic apple juice concentrate and peppermint flavour, giving it a yummy sweet, minty taste. A convenient liquid formulation for easy administration to children. 
Nasal and Sinus support
Support and maintains upper respiratory tract
Sweet minty taste
Convenient liquid formulation
Certified organic formula
Need some support to clear your nose? Try Kiwiherb De-Stuff.
No artificial flavours, sweeteners, preservatives or colours are used in this product. No added gluten, yeast, sugar or dairy derivatives.
Always read the label. Use only as directed. If symptoms persist consult your healthcare professional.