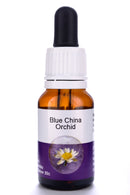 Description
The flower essence of strengthening of Will and taking back control of the Self. To realise the beauty of inner focus and consistency in establishing a fulfilling life. Habits are like old arm chairs, lumpy but familiar, and the person has to fight against their own old programming to be able to change to healthy new directions and experiences. This essence is helpful in inspiring changes by breaking the hold of old patterns of behaviour that deteriorate the quality of Life.
Where the person has become habituated in patterns of living and behaviour which hamper development, happiness or relationships with others.
This essence helps the metamorphosing of the mind to its new pathways by being positive about Self control, discipline and direction.
With the benefits of the new way of being and the feelings of freeing and focusing of the Will, the person is encouraged and inspired to consistently go forward.
For children who have become set in routine patterns for example: waking during the night, crying or being destructive to get attention, immediately reacting when not getting their own way.
For people battling addictions or obsessive behaviour patterns.